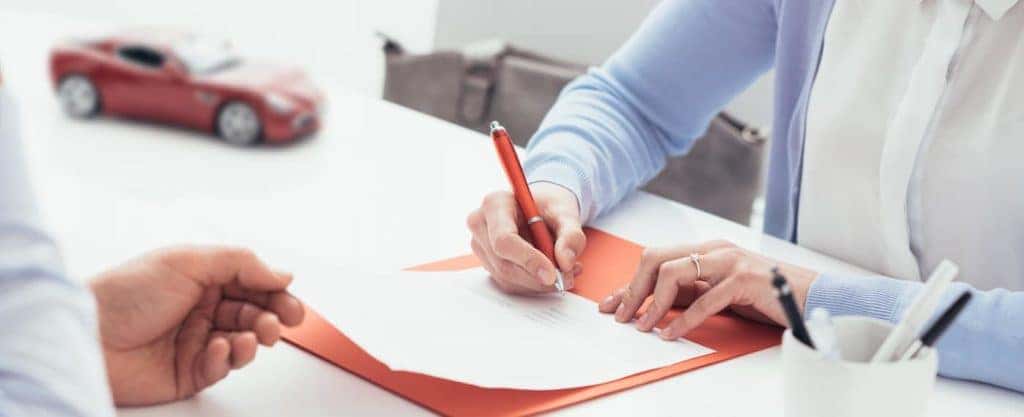 Bank or Dealership: Where's the Best Place to Get a Car Loan?
When you're looking to buy a new car, there are lots of fun parts, like choosing the paint color and picking a trim level that offers you all the latest safety features and technologies. But the automotive financing process is often a less enjoyable aspect of the car buying process. For starters, there are so many places to get a car loan. How do you pick the best one? Here at Leson Chevrolet Company, Inc., we want to help! And, should you choose to go the dealership financing route, we can help at our finance center! With that having been said, let's now explore your options for where to get a car loan and their respective benefits.
Car Loan Shopping Choices
Wondering where to get a car loan near Gretna? You have a couple main options:
The dealership where you're buying your car
A bank (or other lending institution — like a credit union)
Both of these options offer different benefits. Learn more below, or contact us.
Car Loans From a Dealership: The Benefits
It's often easiest to purchase a vehicle from a dealership like Leson Chevrolet Company, Inc. and secure financing through that dealership, too. Here are some benefits of getting a car loan through a dealership near Marrero:
Dealerships work with a variety of lenders to get you the best rates possible.
Sometimes, dealerships provide their own in-house financing.
It is easy to apply. Filling out one form sends out your credit application to multiple lenders, so you can compare different rates and loans. Because multiple lenders are competing for your loan, you may get a better rate this way.
Dealers can help you determine if leasing or buying is better for you.
You may have access to financing incentives through your dealership or the auto manufacturer when you choose a dealership for financing.
You may be able to negotiate your down payment when financing with the dealership.
Car Loans From a Bank: The Benefits
Many savvy Belle Chasse car shoppers decide to seek out financing themselves. Why should you consider doing this? Applying for an auto loan at your bank offers these benefits:
You have a pre-existing relationship with your bank
There are often set interest rates for bank loans
You may be able to set a flexible payment schedule
Compare In House Financing vs. Bank & Credit Union Financing
When you shop for an auto loan, it's important to differentiate between financing that a dealership is able to secure for you from a lender such as a bank, financing that the dealership itself offers in-house, and financing you seek out yourself by sending out credit applications to different banks or by using a service such as Lending Tree or Capital One Auto Loan Navigator. Here's what you should know:
Bank Financing: When you apply for an auto loan at a car dealership, usually, the dealer sends that application out to different lenders to see where they can secure the best rate for you. In other words, they're not actually providing the financing themselves. You can also, however, get approved before stepping into the dealer by shopping around for your own financing.
In House Financing: In-house financing, sometimes called "buy-here-pay-here" financing is provided directly by a dealership, so you don't need to get approval from a lender. Accordingly, it often entails higher interest rates, but is beneficial for car buyers with little to no established credit.
Credit Union Financing: If you belong to a credit union, you can apply for an auto loan there, and you may save money.
Apply for Financing at Leson Chevrolet Company, Inc. Today!
If you'd like to see what kind of car loan or lease we can provide you here at Leson Chevrolet Company, Inc., we invite you to apply for financing online now. We look forward to helping you secure a great rate on your next new or used vehicle sometime soon!
More From Leson Chevrolet Company, Inc.
The new Chevy Equinox is packed to the brim with standard safety features and luxurious interior amenities, but what is the Chevy Equinox towing capacity? When properly equipped, the 2022 Chevy Equinox towing capacity reaches up to 1,500 pounds, so taking family road trips or towing your boat to the lake will be no…

Are you looking for a compact SUV that will wow your passengers as soon as they climb inside? Look no further than the 2022 Chevy Equinox interior. Featuring a wealth of standard tech features and a plethora of cargo space, the 2022 Chevrolet Equinox is worth getting excited about. Explore the details of the…

Our Gretna customers like to have options. Fortunately, the newChevrolet Silverado 1500 gives you plenty. There will be no fewer than nine different 2022 Chevrolet Silverado 1500 configurations to choose from when it arrives this spring. Let's take a closer look at the Chevy Silverado 1500 trim levels below. Contact UsView Our Inventory 2022 Chevrolet…