2021 Chevrolet Traverse Reviews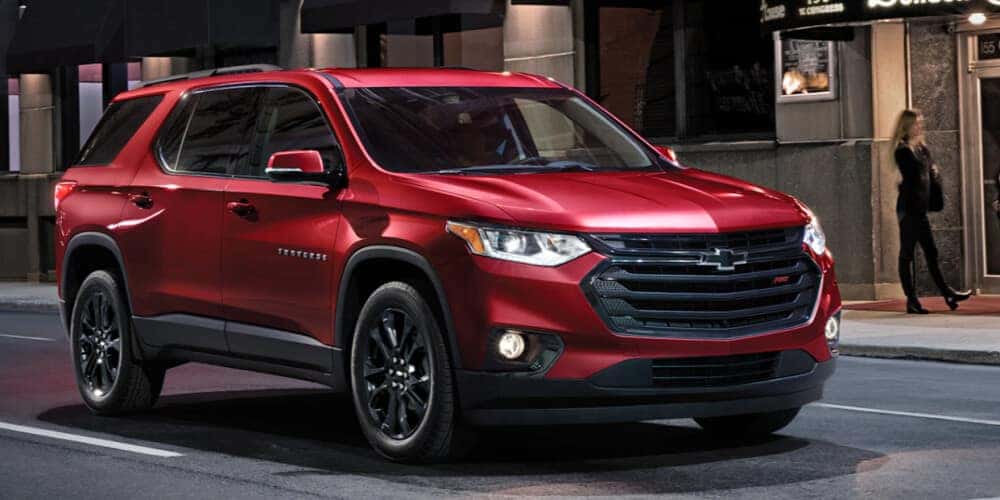 Lots of people buy things based on recommendations from friends or family. But what if you don't know anyone with a three-row crossover, or more specifically, a Chevy Traverse, but nevertheless, are interested in learning more about this Chevy midsize SUV? It's time to consider what the experts have to say! Hence, our 2021 Chevrolet Traverse reviews page! Read on below to hear how complimentary industry leaders are toward the new Traverse, then, if you still have questions, don't hesitate to contact us here at Leson Chevrolet Company, Inc..
Quotes from Leading Chevrolet Traverse Reviews
"It has a capable V6 engine, gets decent gas mileage, and provides a cushioned ride, even over rough roads. Few SUVs in any class have as much cargo space, and the Traverse can accommodate adults in all three rows. The infotainment tech is user-friendly as well."–U.S. News & World Report
"The Chevrolet Traverse is a tempting vehicle for families, thanks to its extra interior room and a starting price that undercuts most competitors. We also like its standard V6 engine, the ability to tow up to 5,000 pounds, and seating for seven or eight passengers."–Kelley Blue Book®
"The Traverse offers abundant space for adults, child seats, water bottles and whatever else you can think of. There's 23 cubic feet of luggage space behind the upright third row, which is more than what most rivals offer."–Edmunds.com
Why the Chevy Traverse is So Popular in Harvey
You've doubtless seen plenty of Chevy Traverse models cruising around Gretna and Marrero. But why? If you can't help but wonder exactly why consumers choose the Traverse vs. the competition, we're here to offer some demystification surrounding just why this Chevy is so exceedingly popular with the greater Belle Chasse populace. We think Motor Trend sums it up best below:
"The Chevrolet Traverse flies further under the radar than most mid-size three-row crossovers, but that doesn't mean it has little to offer families. Along with a quiet ride, it boasts sharp handling and more cargo space than its competitors—mostly because it's huge. (And buyers looking to haul people and cargo will never turn down more space.)"–Motor Trend
Not only that, though; the Traverse also boasts plenty of available luxuries and high-tech amenities like an 8-inch touchscreen infotainment system, Apple CarPlay, Android Auto integration, and so much more. Plus, it's among the safest SUVs traversing Harvey streets.
Chevrolet Traverse Traverse Safety Ratings
Not only do the Chevy Traverse reviews have good things to say about this SUV, so do the Chevy Traverse safety ratings! In fact, The 2021 Traverse scored a 5-star overall rating from the National Highway Traffic Safety Administration or NHTSA for short. The Traverse also boasts a plethora of available active safety features like lane keep assist, not to mention key standard features like a rear vision camera and Chevrolet Teen Driver.
Write Your Own Chevy Traverse Review at Leson Chevrolet Company, Inc.
Still unsure if the Traverse is right for you and your family's needs? Contact us to learn more or give us a call anytime. When safe, visit our Harvey location to take a test-drive and in the process, write your own Chevy Traverse review! In the meantime, feel free to make use of our online buying tools, like our online payment calculator or online finance application to see how much a Traverse could cost you and get approved for financing, respectively.
More From Leson Chevrolet Company, Inc.
Looking for a colorful and capacious new compact SUV around Harvey or Gretna? There's hardly a better option than the 2021 Chevrolet Equinox! With tons of space and interior colors to choose from, the 2021 Chevy Equinox should be on the very top of your SUV shortlist. Learn more about the Chevrolet Equinox interior below…

Lots of people buy things based on recommendations from friends or family. But what if you don't know anyone with a three-row crossover, or more specifically, a Chevy Traverse, but nevertheless, are interested in learning more about this Chevy midsize SUV? It's time to consider what the experts have to say! Hence, our 2021 Chevrolet…

There are four unique 2021 Chevy Equinox trim levels, and each one offers more amazing features than the next! So if you've been wondering which of the Chevy Equinox trims best meets your Gretna needs, wonder no more. Just read Leson Chevrolet Company, Inc.'s handy guide to the 2021 Equinox trims & prices below. Still have lingering questions…